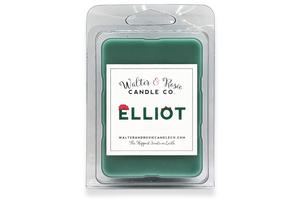 Scent Profile: A woodsy-themed candle perfect for fall. A vanilla and musk base with top notes of apricot and honeysuckle.
Inspired by Pete's Dragon, Elliot is a can't miss fall scent. 
Each wax melt is poured into a six cubed mold. Individual squares have a burn time of 3 hours. The total burn time for the entire mold is 18 hours.
We use a blended soy wax in all of our products. Our blend provides an amazing fragrance throw while maintaining the creamy look and environmentally friendly usability of soy wax. 
Sweet Elliot
Up close, this wax melt has a musky scent, but the aroma that fills the room is sweeter, closer to the honeysuckle and apricot. It reminds me a perfume. I wouldn't call this scent woodsy or great for the fall, but it's nice on its own, and I'm really enjoying it as a spring scent!