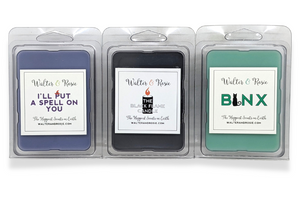 This bundle contains one Black Flame, one Binx, and one I'll Put a Spell on You Wax Melt
Black Flame Scent Profile: Crisp autumn air scent with underscores of warm clove, nutmeg, cinnamon, and apples. 
Binx Scent Profile: Magical blend of geranium, bergamot, amber, and musk.
I'll Put a Spell on You Scent Profile: A bubbly blend of peach, apricot, blackberries, cinnamon, and mandarin.
We use a blended soy wax in all of our products. Each melt contains 6 cubes with an approximate total burn time of 18 hours. Our wax blend provides an amazing fragrance throw while maintaining the creamy look and environmentally friendly usability of soy wax. 
Hocus Pocus Wax Melt Bundle