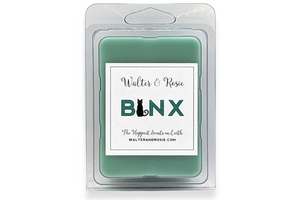 Scent Profile: Magical blend of geranium, bergamot, amber, and musk.
Is it just us or is there a little Hocus Pocus in the air?? 
Each wax melt is poured into a six cubed mold. Individual squares have a burn time of 3 hours. The total burn time for the entire mold is 18 hours.
We use a blended soy wax in all of our products. Our blend provides an amazing fragrance throw while maintaining the creamy look and environmentally friendly usability of soy wax. 
Needs More Throw
Like Black Flame Candle, this scent has a nice fall potpourri aroma. However, it does not have a very strong throw.
Smells absolutely divine!
I bought a total of five different waxes that were fall/Halloween scented and they were all divine! I am so pleased. Binx is a spicy scent. The cinnamon is definitely noticeable but not overpowering.
Love W&R
I love Walter and Rosie! The scents are the best and I love the fast shipping!
Lovely fall scent
This is actually one of my favorite scents out of the 7+ I have purchased. Really nice blend, love the slight spice in it too!