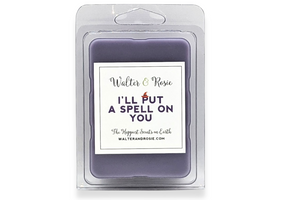 Scent Profile: A bubbly blend of peach, apricot, blackberries, cinnamon and mandarin.
Each wax melt is poured into a six cubed mold. Individual squares have a burn time of 3 hours. The total burn time for the entire mold is 18 hours.
We use a blended soy wax in all of our products. Our blend provides an amazing fragrance throw while maintaining the creamy look and environmentally friendly usability of soy wax.
It Will Put A Spell On You
Love this scent! It's the perfect fall scent that reminds me of candy. I think it would be good for any time of the year. It's very sweet. You definitely get more of the fruity aroma than the cinnamon. And if you're looking for a wax melt with a stronger throw, this is the scent for you.
Wicked good
This wax melt is enchanting. A little husky, a little fair, it's the perfect blend of dark and light. Bought this as a gift and now I want one for me!