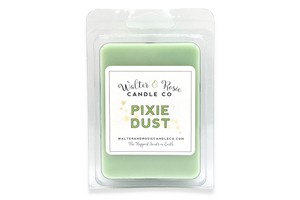 Scent Profile: A perfect mixture of mango, pink sugar, and raspberry sorbet topped with champagne bubbles.
Each wax melt is poured into a six cubed mold. Individual squares have a burn time of 3 hours. The total burn time for the entire mold is 18 hours.
We use a blended soy wax in all of our products. Our blend provides an amazing fragrance throw while maintaining the creamy look and environmentally friendly usability of soy wax. 
Love it!!
Such a clean fresh scent! Love burning these in the house!!
Lovely
It's a very nice fragrance. Soft and not over powering
Clean Scent
This wax melt has a nice, clean aroma, but it's not what I expected. From the description, I expected a sweeter, fruity scent. Instead, I found Pixie Dust to have an aroma that I would call a mix between baby powder and body lotion. Considering fairies are born from baby laughter, I guess it still fits the theme! LOL. It's not a bad scent, but it's not one I would purchase again. However, if you like that kind of fresh-out-of-the-shower, moisturizer scent, you'll love it.