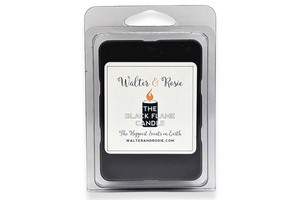 Scent Profile: Crisp autumn air scent with underscores of warm clove, nutmeg, cinnamon, and apples.
Each wax melt is poured into a six cubed mold. Individual squares have a burn time of 3 hours. The total burn time for the entire mold is 18 hours.
We use a blended soy wax in all of our products. Our blend provides an amazing fragrance throw while maintaining the creamy look and environmentally friendly usability of soy wax. 
This screams fall!
This is my new favorite fall scent. It brings me so much joy when I light it.
Perfect Halloween Scent!
Love this scent overall, but especially love it around Halloween time. Hocus Pocus is one of the best, and this nod to the movie is so good!
Nice, light scent
Black Flame Candle is the quintessential fall potpourri scent. It is lighter than I'd like, but still has a nice throw.
Best fall scent. Period.
This one smells so good. It has a strong smell and is just the perfect fall scent. It feels like being in a cozy sweater on a porch on the east coast sipping a warm apple cider. W&R has awesome fall scents bit this is far and away the best.