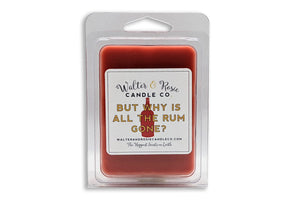 Scent Profile: Spiced rum with hints of vanilla, cinnamon, and sandalwood.
Inspired by one of our favorites, The Pirates of the Caribbean!
Each wax melt is poured into a six cubed mold. Individual squares have a burn time of 3 hours. The total burn time for the entire mold is 18 hours.
We use a blended soy and paraffin wax in all of our products. Our blend provides an amazing fragrance throw while maintaining the creamy look and environmentally friendly usability of soy wax. 
Great tropical scent
This wax melt reminds me of having a drink on the beach, loved using it during the summer!