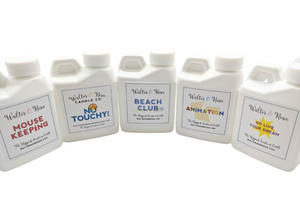 This is a set of 4 oz testers. Each of the following detergents is included: 
Beach Club, Go Live Your Dream, Animation, No Touchy, and Mouse Keeping
Detergent is phosphate-free and safe for HE appliances. Composed of aroma chemicals, natural fragrance oils, and other functional components in compliance with the most recent guidelines published by I.F.R.A (International Fragrance Association). The IFRA standards are based on safety assessments from RIFM (Research Institute for Fragrance Materials).
Use 2 oz per washing load. Shake gently before use.
Pleasantly Surprised
I am very pleased with this set. My clothes have never smelled so good!
Reminds me of Home
I absolutely love these scents! They make everything I wash smell so good, and the scents remind me of my being "home" in WDW!
This is Awesome!
Reminds me of Disney. I bought the sample package. All of the scents are wonderful. I will be purchasing the larger size. The only drawback is the price, a little expensive.
Detergent sampler
I love this purchase!! Everything smells fantastic!!! You can get two loads with each sample bottle. Love the fact that my sheets smell like Beach club!
Smells great in the bottle
The smell doesn't last on the clothes. I tried using extra and it didn't do much.
Added some Disney magic to the laundry room while the washer was going, though.