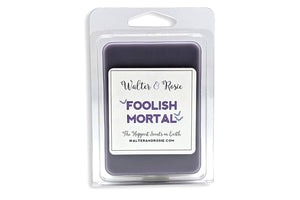 Scent profile: A spooky combination of warm vanilla and woody undertones.
This scent will bring back spooky memories from the Haunted Mansion where all who enter are foolish mortals!
We use a blended soy wax in all of our products that provide an amazing fragrance throw while maintaining the creamy look and environmentally friendly usability of soy wax. Each wax melt is poured into a six cubed mold. Individual squares have a burn time of 3 hours. The total burn time for the entire mold is 18 hours.
Love this scent
This scent is very warm and has a spooky feeling to it just like the mansion! It's perfect for a night in watching hocus pocus!
Big time nostalgia packed in a little cube!!!
My absolute favorite scent from W&R! Foolish Mortal wax melts are my "can't live without" melts. They remind me of being back at Disney and just stepping inside the Haunted Mansion. My first stop as soon as I enter Magic Kingdom. Ybambe, Mouse Keeping & Jack & Sally I highly recommend. But if you want to feel like you're "Home" again, I recommend these!
This is my absolute favourite candle. I received one for a Christmas gift and I ordered 5 more. It's very unique. Smells like vanilla. I love it!
Great scent!
Love this scent, a deep and lovely smell.
Love it but...
This is my favorite scent! However the last one I got smelled different from the previous ones I hope they don't change up with formula with this one. It really is my family's favorite.