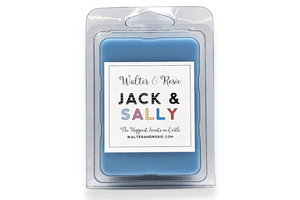 Scent Profile: A combination of patchouli, cedarwood, and cinnamon.
Jack & Sally is inspired by one of our favorite Disney spooky classics, The Nightmare Before Christmas.
We use a blended soy wax in all of our products that provide an amazing fragrance throw while maintaining the creamy look and environmentally friendly usability of soy wax. Each wax melt is poured into a six cubed mold. Individual squares have a burn time of 3 hours. The total burn time for the entire mold is 18 hours.
My absolute favorite!
This wax melt smells amazing. No matter who visits I always get compliments on how good the house smells