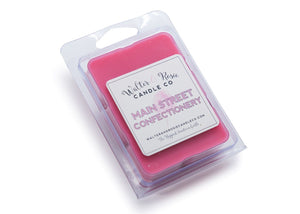 Scent Profile: A candy-like scent with touches of sweet vanilla.
The Main Street Confectionery candle will transport you to happy memories of walking down Main Street USA with delicious cotton candy. 
Our blend provides an amazing fragrance throw while maintaining the creamy look and environmentally friendly usability of soy wax. Each wax melt is poured into a six cubed mold. Individual squares have a burn time of 3 hours. The total burn time for the entire mold is 18 hours.
Main Street Confectionery Wax Melt
Main Street Confectionery Wax Melt
Buy it!
This is one of my favorite scents ever! It smells like cotton candy! Smells great in my max warmer!
Little Bit a Magic Home
When I started melting the wax, I was amazed at how I was transported to the Main Street Confectionary within my own home!
Main Street Confectionery Wax Melt