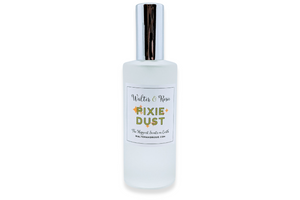 Scent Profile: This Peter Pan-inspired scent is a perfect mixture of mango, pink sugar, and raspberry sorbet topped with champagne bubbles.
Each room spray is poured into a frosted glass bottle.
Bottles are 4oz with a fine mist spray nozzle. 
Each bottle yields 600 sprays.
The best scent!
LOVE LOVE LOVE Pixie Dust! It's such a magical scent and the room spray is no different. I spritzed it around my room and was pleased by how long the smell lingered. Love these bottles of magic.
Pixie Dust spray smells like magic in a bottle!
I love Walter and Rosie products. Between the candles and sprays, it's like making your own home the most magical place on Earth.