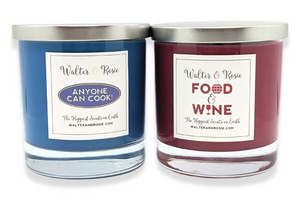 A perfect fall candle bundle to bring the magic to your kitchen!
Food & Wine: This 'glass of Merlot' scent combines plums, apples, and strawberries on top of a spicy alcoholic background.
Anyone Can Cook: A Creme Brulee scent filled with notes of vanilla custard and buttery caramel.
We use a blended soy wax in all of our products. Our blend provides an amazing fragrance throw while maintaining the creamy look and environmentally friendly usability of soy wax. 
Each candle is poured into an 11-ounce glass jar with a suction lid. Candles have a burn time of approximately 40 hours. 
Best candles ever!
These candles are amazing! They arrived quickly and their smells take me back to the Wine and Dine festival. Will definitely be ordering more in the future!!